Submitted by admin on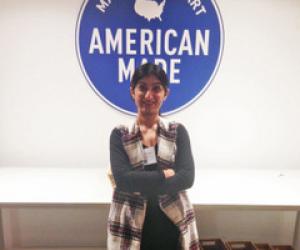 5:05 am: The moon is shining brightly, over Rhode Island, as I get into my car. 184 miles stand between Martha Stewart and me and I can't wait to cross them.
5:09 am: A wave of panic hits me as I realize that I left my music at home and may have to listen to three hours of sports radio as I'm driving my husband's car to New York City. NO! I twiddle around for music and the Black-eyed Peas start blaring that they gotta feeling! YES! Tonight (today) is gonna be a good night after all. My inner 12-year old, eternal optimist gives me a Woohoo and I'm excited about the day.
6:20 am: I can see the sun rising in the horizon and wonder when I'll reach New York City. I'm headed to the American Made Summit by Martha Stewart and don't know what to expect. My husband and I own a small business, My Méz, and thought it would be interesting to meet others who create beautiful products in the USA. When we registered we didn't realize we'd have another show so he is holding down the fort at the Fine Furnishings show in Pawtucket, RI while I'm driving solo to New York City. I've entrusted my 4-year old with our friends and know that she'll have a great time but it's been a hectic week for us and I'm questioning if this day trip to Manhattan and back was such a great idea after all.
8:23 am: My super-soft traveling sweatshirt has also turned out to be super linty and left its mark on my favorite skinny-looking black pants and shirt. NO! I bet Martha doesn't have to deal with this of kind treachery from her clothes. Let's hope my cute jacket can hide all that green lint!
8:45 am: 7 feet stand between Martha Stewart and me. As I stand in the bright and airy offices of Martha Stewart Living I start to take it all in. The Black-eyed Peas were right about their feeling and here's why:
1. Learn from your mistakes but don't dwell over them. Martha shares these words of wisdom and I couldn't agree more. An entrepreneur's journey can be full of stumbling blocks and learning what not to do. But you have to be able to get up, brush off the dust, and forge ahead. You will make mistakes and I agree with her that while you have to learn from them you can't dwell. We cannot afford to waste time or mental and emotional energy over what could have been.
2. You're helping create a future that doesn't exist. The morning panel is talking about financing your dreams and I love what Maxine Bedat, Co-Founder of Zady, has to say about influencing venture capitalists. To bring investors on board you  have to be able to tell your story and help them see the future that you can already see.
3. Take a deep breath! 1 million moments were just posted on social media. I have always been in awe over the power of social media but am learning even more from this incredible panel being moderated by Michelle Klein, Marketing Director of Facebook. She asks if we've checked our social media once since the morning… multiple times in the last 10 minutes? Guilty as charged! I have been tweeting my little thumbs off this morning. Ingrid Nilsen asks us to be true to ourselves with our content- simple and powerful advice. I also love the advice from Tina Wells, CEO of Buzz Marketing Group. "Are you solving a problem?" Consider describing your product in 5 words or less and remember to stay true to your brand with your posts. My husband and I have struggled with this as ours is a visual product. "Artful trays and tables…bringing memories to the table…giving function to your memories." Hmm, looks like we need a weekend retreat to come up with a more creative, yet succinct, product description. Like most of our company retreats this too shall take place in our basement but maybe with some of Martha's classic egg nog!
4. Do you have the same reaction to feeling exhausted as to when your phone shows 13% battery? Arianna Huffington is speaking and I am enthralled. I have had the good fortune of hearing some incredible globally-known speakers and Arianna Huffington has us thinking, laughing, and learning all at the same time. Do you reach for your phone before you open your eyes, she asks? Guilty again! When you wake up, take a minute to think of your intentions for the day before you lose yourself in email and newsfeed. What do you want of the world today? She also claims that multitasking is the enemy of wonder. I have often wondered about this as I juggle multiple balls of motherhood, working full-time, and collaborating with my husband on our business. Prioritization is important as at some point you aren't multitasking but merely switching tasks and losing focus. I'm proud to say that I haven't woken up jonesing for my phone since I've been back.
5. If you're going to fail, fail fast, and rip off the bandage. Freya and Natasha, the founders of Coolhaus are speaking and are chock full of startup tips to success. Most entrepreneurs are passionate about their business but Freya and Natasha's drive is off the charts. They combine infectious energy with razor-sharp intelligence and a get-it-done attitude. Done is sometimes better than perfect, they say and I agree. It is so important to have your product in front of as many people as possible. I remember our first show where we had terrible marketing material but thankfully our stunning tables spoke for themselves and stopped people in their tracks.  I can't wait to dig into their ice cream and their Amazon best seller Coolhaus which I got in my goodie bag. Did I mention they got married while starting their business? My husband and I started our business while we were expecting our baby. Goes to show that you can start a family, and a business, with someone if you're having fun along the ride.
6. It shouldn't be so damn hard for regular people to eat right! I hadn't heard of Josh Tetrick up until now and wonder where I've been. After many years in the Sahara, this Alabama-native and Fulbright scholar is now creating a positive disruption within the global food industry. His company Hampton Creek has two main products that are revolutionizing food service with plant-based protein: egg-free mayo and egg-free cookies. And more are on the way. Most of us dream of changing the world; Josh is actually doing it!
7. The Winners! I'd be completely remiss if I didn't mention the hugely talented winners of the American-made contest. They were innovative, smart, and so passionate about their work. Gary Schneider, Co-Founder of Pine Island Tropicals, described species of mangoes that most of us had never heard of. Gina Locklear, Founder of Little River Sock Mill, had such passion about her family business and bringing jobs back to Fort Payne, Alabama. There is such an ability for American makers to not only create unique, beautifully-crafted work but also have a positive impact in their local economies. Opportunities like this summit are critical to fostering talent and feeding our entrepreneurial fire.
Of course, in true Martha style, no detail was spared to make the conference experience memorable; beautiful flowers, scrumptious locally-sourced food, and the warm hospitality of the amazing volunteer staff! I didn't think I'd use these words together but the kale, quinoa, and sweet potato salad, in our lunch boxes, was so delicious that I scraped the bottom of that container.
Starting a business is not for the faint of heart. Amongst our many resources encouragement and positivity are the most underrated and running low on them can be detrimental. The American-Made summit was like an espresso shot of enthusiasm which is still coursing through my veins. I learned a lot, met some wonderful people, and can't wait to return next year.- Akanksha
Photos: Some of my memorable moments from the American Made Summit. A chance meeting with Chef Emeril Lagasse was a highlight! The UPS Store at the summit created this frame with my favorite quote. It is now proudly displayed in our home office My Méz gallery as a daily source of motivation.